Art at the ColorHotel: the wellbeing of our guests by design
Publication date: Monday 20 September 2021
Reading time: 2 minutes
When we created the concept of the ColorHotel, we wanted above all to deliver an atmosphere that was both welcoming and aesthetically pleasing. The spaces needed to be functional and also to ensure that our guests felt good, surrounded by small but special details.
So art and design played a fundamental role in the overall planning; after much reflection, we used them to make the most of the setting and create a tranquil atmosphere for our guests.
We entrusted the task of delivering an artistic touch to the ColorHotel to the artist and sculptor Claudio Atocaio; we quickly took on board his customer-focused philosophy, which is also central to our core beliefs.
Atocaio has a talent for creating very individual, light-filled works of art and naturally crafted lamps. He loves using recycled materials in his work: steel, aluminium, copper, glass, stone and untreated wood.
You'll find his work all around the ColorHotel: from the magical lights that bring wild tree trunks to life from within, to reed-fringed lagoons edged with banks of clay and bamboo, to the gentle waves and fish of Lake Garda.
For now, we want to share two projects with you that have completely revolutionised and characterised our spaces: the islands of leaves in reception and the "fireflies" in the restaurant.
A reception area that's waiting to welcome you
We opted not to have a classic reception area which would separate us from our guests. Instead, Claudio Atocaio pored over leafy islands that were open and circular in shape, to explore ideas for a more intimate and less traditional initial welcome.
Inspiration came from the natural setting of Lake Garda, and in particular from the elegance of the shape of the leaves and the natural movement of the reeds.
Research into appropriate materials was also essential to achieve a very specific atmosphere: in fact, wood is both welcoming and warming.
Enchanting atmosphere in our restaurant
When you eat at La Veranda del Color restaurant, you immediately notice the twinkling fireflies: our veranda is open to the skies, with the option of a sliding glass ceiling that allows you to gaze up at the stars. Right in the centre, beneath the vast glass panel that lets in the night skies, stands a sculpted tree studded with pretty specks of light (fireflies, actually) that help transport us on our starry dreams. Photo
Through Atocaio's work, we have found art, creativity and brilliance. His minimalist, urban style, together with his passion for nature, has completely won us over. And now, when you come and stay, and absorb the positive energy created by this harmonious balance, you can experience it too.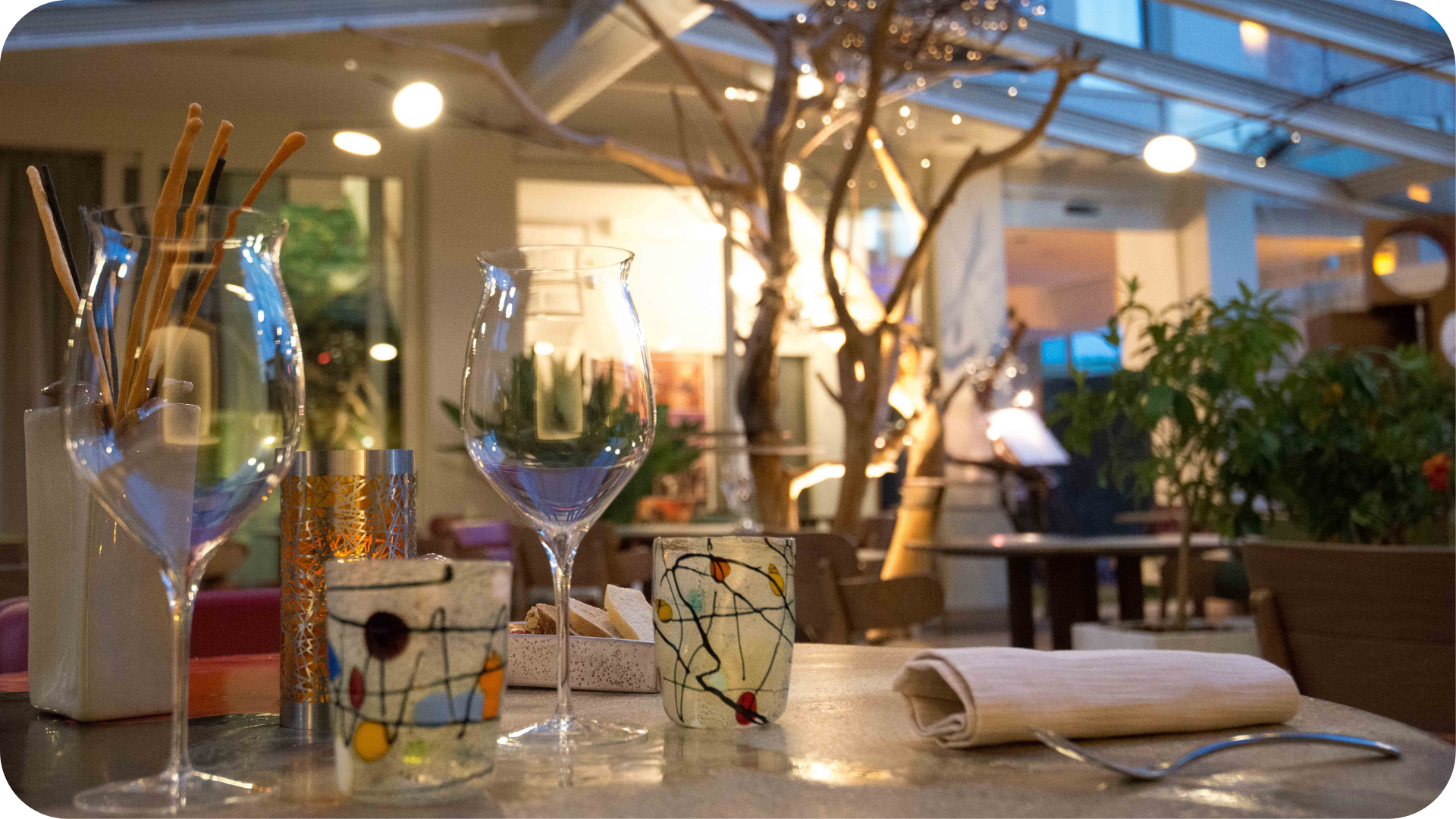 Discover the unique pieces of Atocaio.