Giovanna
Front Office Manager
"The secret to doing a good job? Always having a solution and a smile on your face."
Enjoy Monte Baldo this summer
Publication date: Monday 28 March 2022
Reading time: 3 minutes
King of the peaks of Lake Garda, Monte Baldo rises to a height of 2,000 m in a lofty position between the provinces of Trento and Verona. Soaring between the River Adige and Lake Garda, its strategic position is just part of the reason we love it so much.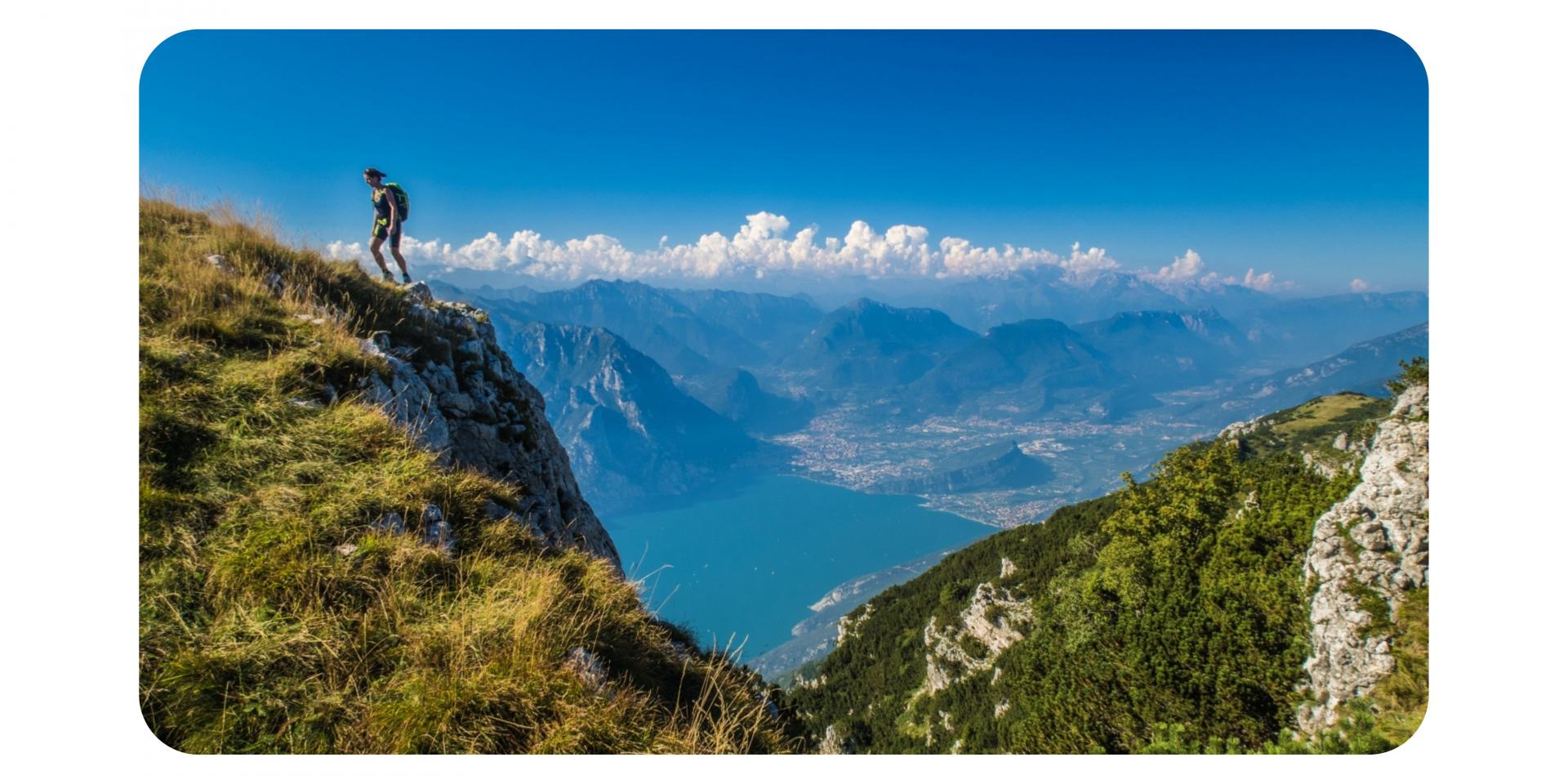 Sports activities
Whether on mountain bike, horseback, paragliding or hang gliding, Monte Baldo is a fantastic place to explore.
In spring and summer, it's the ideal location for big days out. With plenty of trails for anyone who likes the challenge of long walks between mountain ridges, it's an absolute paradise for hiking and Nordic walking!
Cycling enthusiasts will also find a selection of routes on Monte Baldo, ranging from gentle and relaxing routes that are suitable for all, to the more dangerous and complex ones which are for more advanced cyclists.
If you are a professional, we recommend the Skull Trail, a freeride route along a disused path with altitude differences of 2,000 m.

The view
Monte Baldo is the highest mountain in the Lake Garda region. It offers numerous panoramic viewpoints to let you take in the picture-postcard views across the lake, the peaks and the verdant valleys. Feast your eyes on views from the vantage points at Bocca di Navene and Cima Valdritta – the latter rises to 2,218 m!
Which brings us on to the must-do experience of a trip on the Malcesine-Monte Baldo cable car, one of the world's most sophisticated ski lifts. Departing every half-hour from the centre of Malcesine and taking you to 1,800 m above sea level in a matter of minutes, the rotating cabins offer a 360˚ panoramic view of Monte Baldo.
On Monte Baldo, the 'Angelo Gelodi' Astronomical Observatory is situated close to the Rigufio Novezzina and during the summer months, you can take part in sky and star-gazing events for adults and children.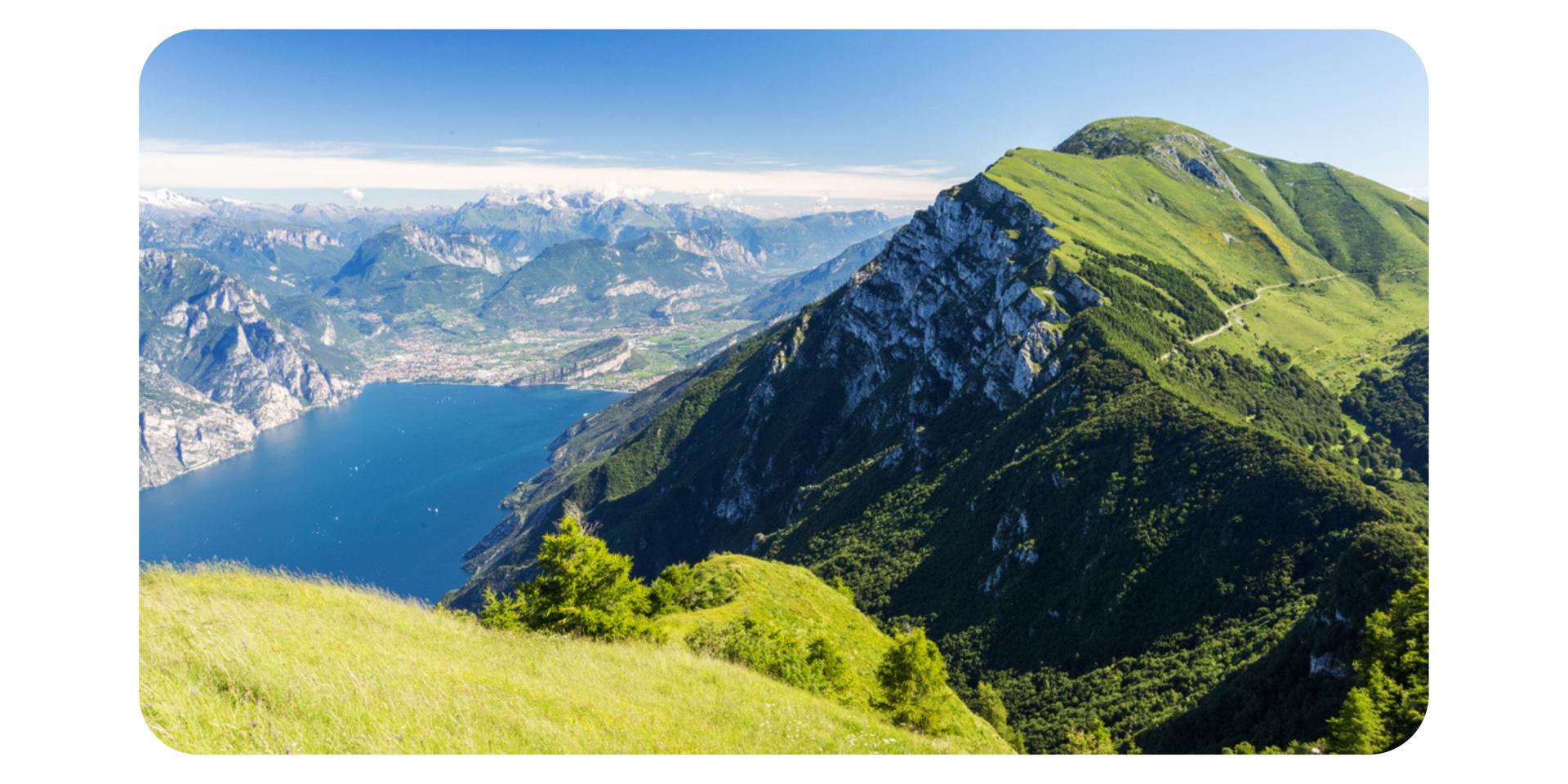 Nature
Often referred to as the 'Botanical Garden of Europe' thanks to its dense and varied flora, Monte Baldo is the perfect destination for nature lovers. In fact, you'll find no fewer than 600 types of plants listed, including olive groves, mountain pines, oak, rhododendrons, broad-leaved trees and age-old conifers and flowers.
The area around the mountain provides a fascinating overview of the local environmental, with extraordinary natural variety across four climatic strips. Each strip has its own unique vegetation: the Mediterranean zone (up to 700 m) is home to areas of woodland, the mountain zone (from 700 to 1,500 m) to forests of beech, lime, silver fir and larch, the boreal zone (1,500 to 2,000 m) to showy blooms of white crocus, gentian, mountain pine, heather, mountain ash and alpine juniper, and the Alpine zone (over 2,000 m), where you'll find rhododendrons, potentilla and plants typical of a rocky landscape.
And as a final note, be sure to visit the mountain huts on Monte Baldo to enjoy the local gastronomy. These characteristic stone buildings, where cheeses were once produced, have been transformed into eateries. Visit the refuges, mountain huts and inns to feast on local delicacies including the magic trio of honey, cheese and truffles.

You'll find everything you need to know about experiencing the wonders of Monte Baldo at reception. Ask away!