Federica
Guest Experience Manager
"I am a lending hand. I make sure that customers get all the attention they need and fully enjoy their holiday."
Whichever color you like!
Publication date: Thursday 22 July 2021
Reading time: 5 minutes
At the ColorHotel our motto is "Your Color. Your Style." We want you to seek out, find and love your own color.
For us, color is a way of life. We love color and we let it guide and inspire us because deep down, there is a close connection between colors and our mood.
This is why everything at the hotel has a color theme, whether it be the design of our rooms and shared areas, the breakfast menus, our ColorMassages or the fitness workouts in the gym.
The colors of our rooms
Each room has its own character and feel, thanks to our use of color. Let's take a look at what they mean and what sensations they inspire.
Red
Red is one of the most intense colors. It makes us think of passion, energy and strength. Red grabs your attention, inflames the senses and stimulates action. When used in moderation, it can make you feel happier and more energetic.
Yellow
Yellow is bright, warm and full of positive energy. This color puts you in a good mood and inspires creativity. If you are looking to clear your mind and concentrate, this is the color for you!
Blue
Blue provies a feeling of peace and stability. It is a calming and balancing color that slows your heart rate, helps you to relax, and makes it easier to fall asleep. This is the perfect color for those looking for a deep, peaceful sleep.
Green
Green gives off a sense of harmony, peace and nature. It makes it easier to breathe peacefully and creates a relaxing atmosphere, providing freshness to the room and relaxing the mind.
Brown
Brown is the color of earth and wood and is therefore strongly linked to nature. In our rooms, it creates an aura of intimacy and warmth and is ideal for people looking for stability.
White
White is pure, fresh and simple. It creates a sense of freedom, calms your emotions and rests the eyes. It reflects the light and helps to amplify the space around us.
Color Massage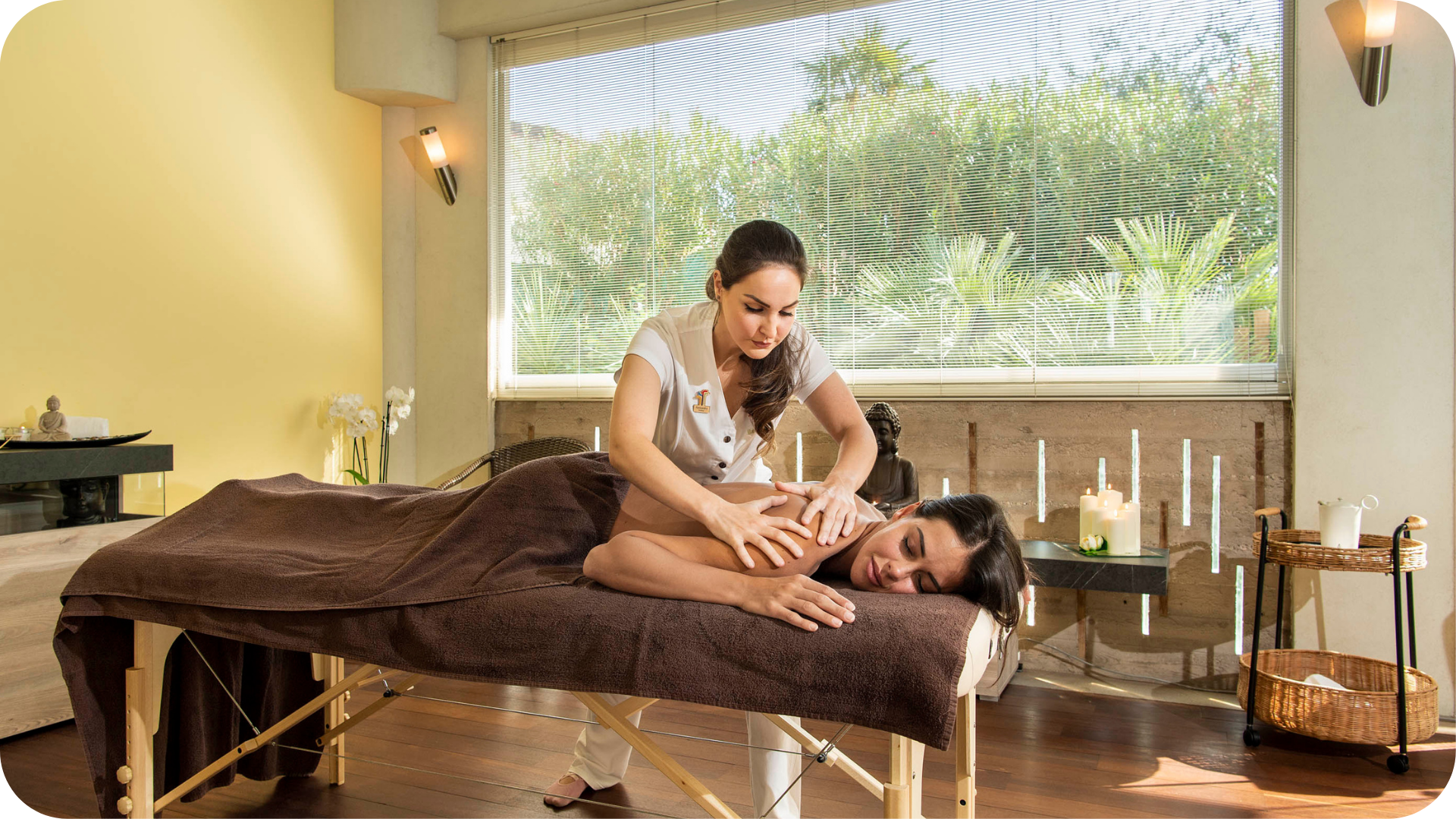 Even our massages have been designed according to color and perfectly represent how we want to take care of our guests' wellbeing. We have combined expert holistic techniques from different cultures and traditions to create seven massages, each with its own form, intention and color to deliver a whole world of sensations, emotions and effects for both body and mind.
Red Massage
A revitalising massage that gives strength and energy to the whole body, particularly the legs.
Blue Massage
Perfect for those who want to immerse themselves in deep relaxation, unload the weight off their back, and clear their head.
Orange Massage
The orange massage is designed to stimulate emotion through a sensitive and rhythmic touch involving the whole body.
Green Massage
Suitable for those who want to breathe deeply, giving a sense of openness to the chest and a feeling of wellbeing to the whole body.
Magenta Massage
The magenta massage is for those looking for a sensitive touch to provide wellbeing and balance to both body and soul. With wide, embracing movements, the body relaxes, the mind is freed and tensions are released.
Turquoise Water Massage
The turquoise water massage is carried out in hot water supported by floats. Guests are massaged by both the masseur and the water for guaranteed relaxation.
Gold Couple's Massage
Gold is the color of wealth and abundance, qualities that are so nourishing for a couple. The Gold Couple's massage allows you to receive a massage at the same time in the same space, combining masculine and feminine qualities and creating harmony and closeness.
Color Fitness Workouts
Even the workouts that we offer in the gym follow a color-based philosophy. They are designed to provide harmony, joy and a balance between mind, body and energy.
Find out more about each one here:
Joy - orange, for a determined start to the day! A complete workout that gets you up to speed quickly.
Body&Soul - purple, improve the flexibility of your joints and stimulate concentration with these easy exercises that are suitable for everyone.
Harmony – yellow, improve your posture by working on your back so that you are ready to go, whilst enjoying a sense of harmony.
Power – red, to tone the whole body with simple and effective exercises that firm the muscles and can turn into a pleasant routine.
Have you enjoyed this trip through our colorful world? Come and visit us and we will help you to decide which colors are the best match for you and will define a peaceful and harmonious stay at the ColorHotel!