"The most common compliment we receive? 'That's perfect'."
A bar for everyone
Publication date: Wednesday 25 May 2022
Reading time: 6 minutes
Alongside pizza and spaghetti, the bar has become a symbol of Italian life throughout the world. Naturally for us Italians, it's one of our favourite places! The place to go for a quick pick-me-up coffee at the counter, a more leisurely croissant and skim through the morning papers at an outside table, or somewhere to spend time with friends and chat over a decadent aperitif.
The bar – a place for coffee or an aperitif
The history of the bar in Italy is closely linked to that of coffee, which we enjoy at any time of the day. It has a strong tradition throughout Italy: just think of cities like Trieste or Naples where it's really made its mark.
Of course, when it comes to coffee, espresso is the undisputed king. But did you know that there are actually 34 traditional ways to drink coffee in Italy? Hot or cold macchiato, frothy, long, short, with a splash of alcohol, decaffeinated, in a glass, in a cup, in a mug, with a sprinkling of cocoa, shaken and… well, there are at least 20 more ways :)
The first bar to open in Italy was in Venice at the beginning of the 18th century. It's opening was probably linked to the trade in coffee which was taking place in Venice with other Mediterranean countries.
From that moment, coffee shops sprung up all over Italy, becoming cultural centres frequented mainly by aristocrats and intellectuals who loved to meet to discuss literature, art and politics.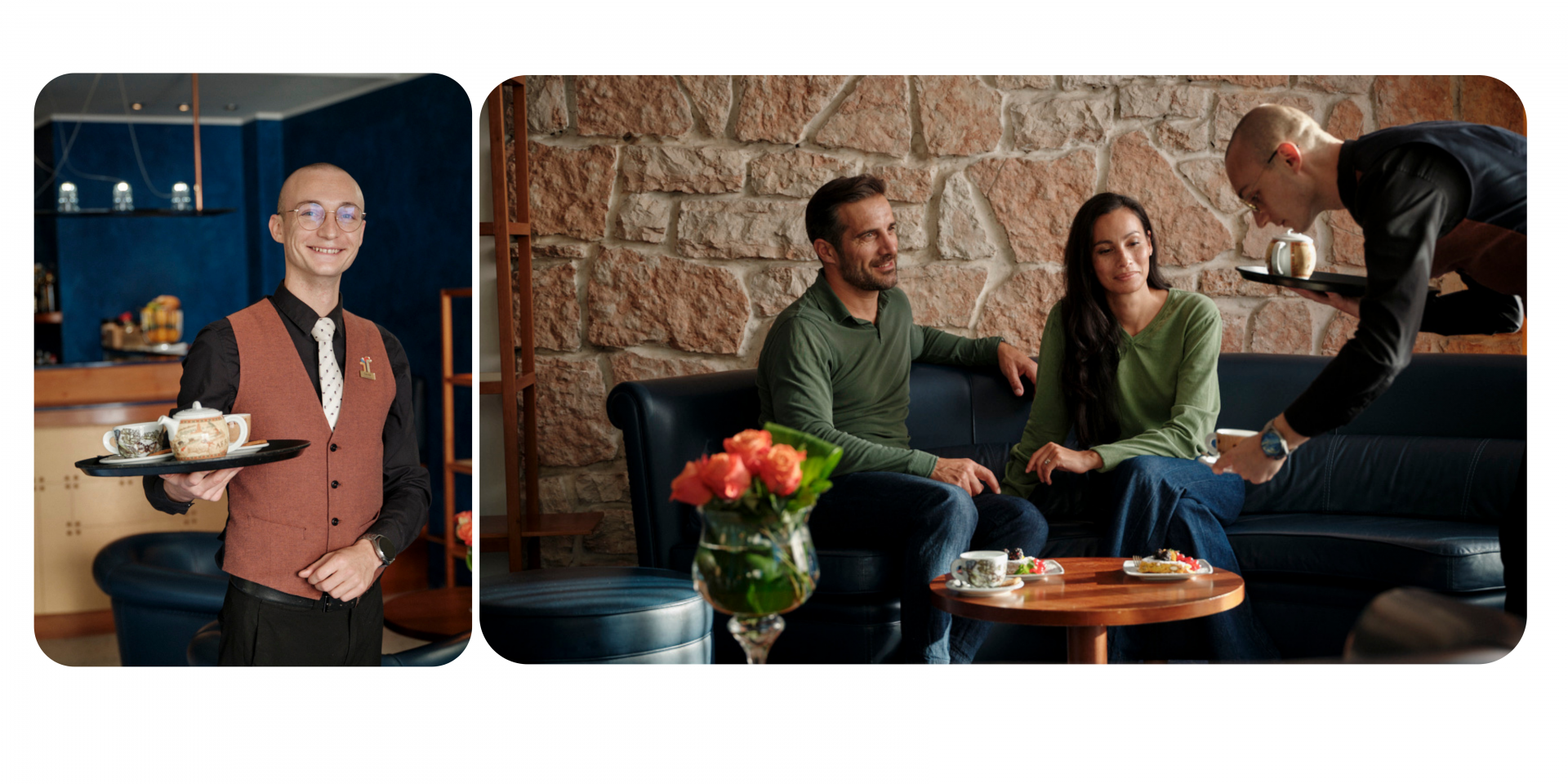 And the aperitif?
The history of the aperitif in Italy takes in more or less the same period as that of coffee. Let's go back to Turin in 1786. In a small shop selling alcohol and spirits, the owner Antonio Benedetto Carpano created Vermouth, a wine flavoured with quinine, which immediately became the aperitif drink par excellence. Its function was to 'open' the stomach and accompany the palate on its journey to the meal.
But the aperitif was guaranteed to evolve further. In Milan in the 90's, a new formula was launched which involved adding an abundant buffet: in short, free food to encourage people to stay for another drink.
It was at this time that the Milanese aperitif was born. Before long, this evolved into 'apericena', a buffet that was abundant enough to replace dinner. A ritual ensued that involved coming up with delicious bites of pasta or rice, fried food, dips, ethnic nibbles, sushi, vegan and vegetarian recipes and almost every type of drink, from exotic non-alcoholic juices to wine and cocktails.
'Apericena' bars existed alongside other bars where traditional pre-dinner aperitifs were served. These were usually enjoyed before going to the table, accompanied by simple savoury nibbles, crisps, olives and small bites of cheese and cold meats.
The ColorHotel bar
We've got no fewer than 3 bars at the ColorHotel! Each one serves a different area of the hotel and has its own unique atmosphere and character.
The Bamboo Bar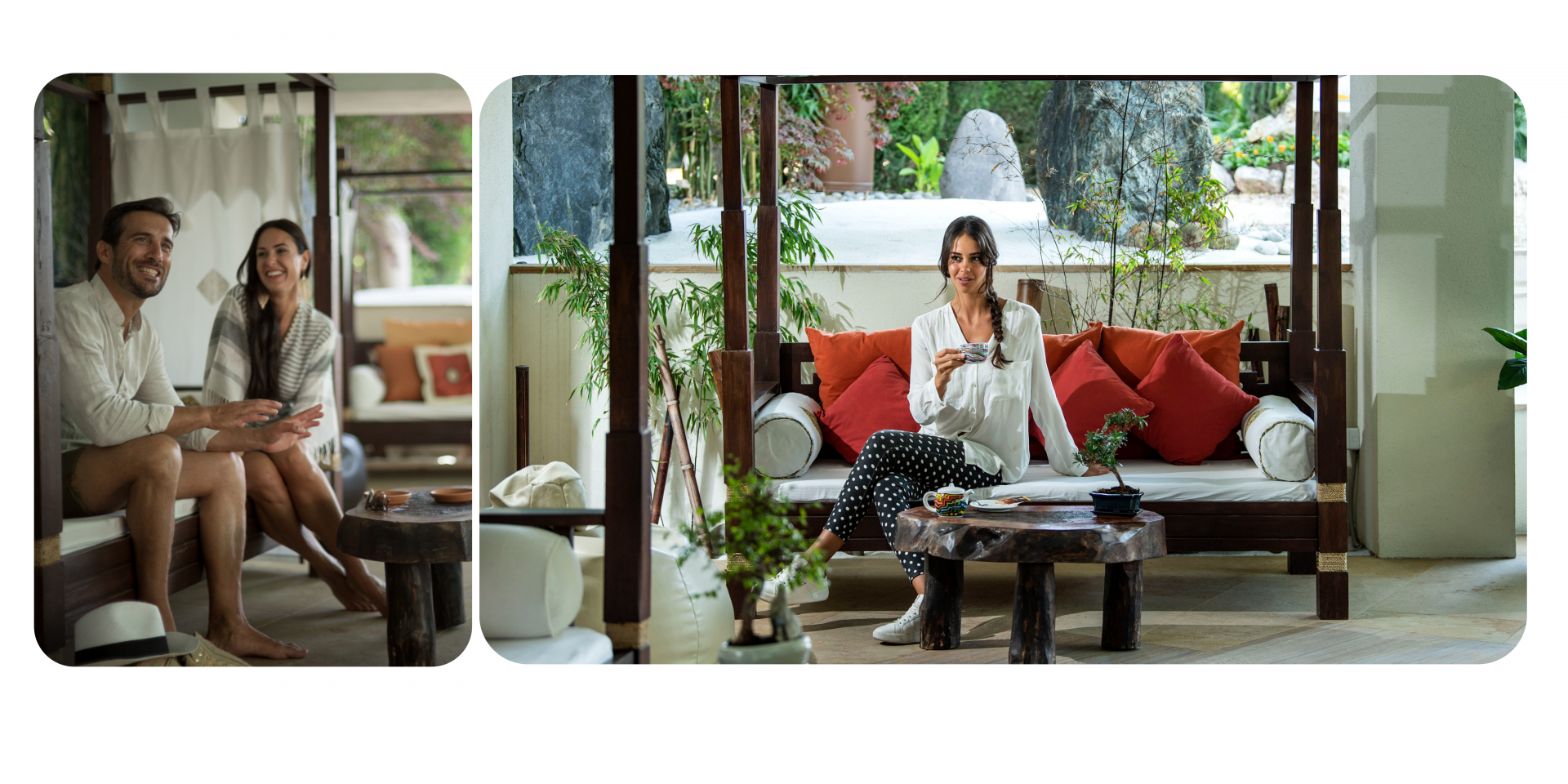 This is the main bar at the ColorHotel, ideal for anyone planning on working in between swims. It offers workstations with computer access, a place to connect and recharge your devices and to work comfortably on the sofas.
The coffee bar that also provides our guests' breakfasts is based here: the coffee we used is from Omkafè on Lake Garda. We've chosen a perfect blend of Arabica and strength, a great combination for an energetic start to the day!
Why them? Because they produce a range of coffee that absolutely guarantees the non-exploitation of the workforce and plantations and safeguards biodiversity.
In the afternoon, the team at the Bamboo Bar flits between the parasols, offering guests the relaxing option of ordering from their sunbeds, whether it's international and Caribbean-style cocktails such as Mojitos, Caipirinha or Piña Coladas, as well as a readily available selection of wines by the glass or bottle.
Sunbay Bar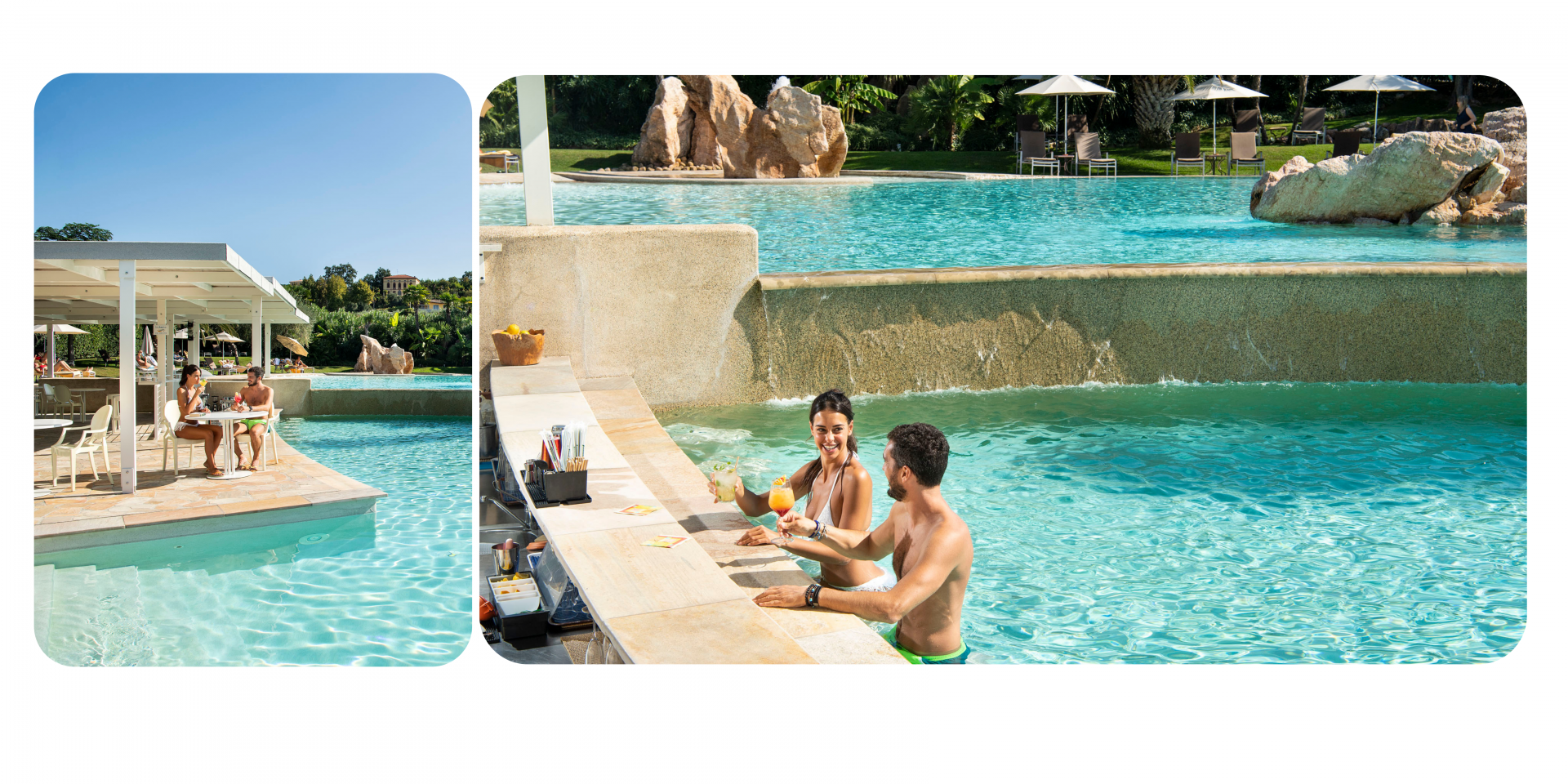 The Sunbay Bar is located at the Sunbay Pool. Its unique location by the waterfall that cascades into the pool means that guests can order and sip their drinks in the pool.
The Sunbay is our happiness bar: guaranteed enjoyment thanks to the choice of music and energy of bar manager, Michele!
As you'd expect, friendliness and a warm welcome are a big part of the bar: the poolside bar is a great place to get to know other people, couples and families and is a popular meeting point for our guests.
Deja Blu Bar
The Deja Blu Bar is our evening American Bar. With its classic style and extensive bar, it encompasses an outside lounge area alongside the pool. This is the place to order a carefully prepared international or homemade cocktail, such as the Aged cocktails which bear the stamp of Alessandro Venturini, our favourite barman!
The Deja Blu Bar also features a comprehensive menu of premium spirits, Italian grappa and regional specialities such as those of the Gobetti Distillery. Amongst this year's new additions are the Whisky and Gin Tonic tastings. A must!
Alessandro's philosophy is very much to continue to deliver creativity and imaginative offerings. His constant curiosity has led to him launching extravagant combinations and to source specific items such as Gin Lacus which actually comes from Lake Garda. Are you familiar with it?
Well, on your next visit, be sure to ask Alessandro about it and get him to produce a tailor-made cocktail to suit your mood!