"The most common compliment we receive? 'That's perfect'."
Our clients' top 3 cocktails
Publication date: Saturday 29 July 2023
Reading time: 7 minutes
Come with us into the world of signature cocktails, where the art of mixology reaches its highest point. If you enjoy drinking and want to explore new tasting experiences, here's your chance: we're going to introduce you to the 3 cocktails that our clients have loved most of all, true liquid works of art, and all tailormade at the ColorHotel. Our magic duo, Alessandro and Davide, the geniuses behind the bar at Deja Blu, are on hand to captivate the palates of anyone lucky enough to try their cocktails.
But before announcing the top 3, what exactly are signature cocktails?
Signature cocktails, also known as 'customised drinks', are unique and original creations prepared by exceptionally talented mixologists. These artists of drinks are able to deftly combine spirits, juices, extracts, herbs, spices and other ingredients harmoniously, always maintaining an element of surprise. Each signature cocktail is designed to represent the style and creativity of the barman or the bar in which it's served.
The birth of a signature cocktail
Creating a signature cocktail is a fascinating - even if laborious - process. Bartenders often start with an idea or inspiration, such as an unusual ingredient or an interesting story to express via the drink. Then they experiment with different combinations of flavours, balancing the key elements to get the flavour they're looking for.
Attention to detail is a vital element of the art of creating a signature cocktail. Each aroma brings with it nuances that blend with others: the balance or contrast between the flavours is vital. Particular attention is also paid to the presentation, the use of creative decorations and the choice of elegant glassware and crockery. The result is a complete experience, designed to thrill all the senses.
The challenges of mixology at the highest level
Crafting successful signature cocktails requires not only creativity and skill, but also a deep understanding of the different types of spirits, liqueurs and ingredients available. Experienced mixologists know exactly how to balance bitter, sweet, acidic and alcoholic elements to achieve the perfect blend.
It's also essential to use high-quality, super-fresh ingredients for the best results. Often, mixologists choose local or seasonal ingredients to add a unique and sustainable twist to their signature cocktails. And with this in mind, we'd like to introduce to you the 3 brand-new signature cocktails, each revisited, formulated and tested by our brilliant mixology team, Alessandro and Davide.
Bardolino Sour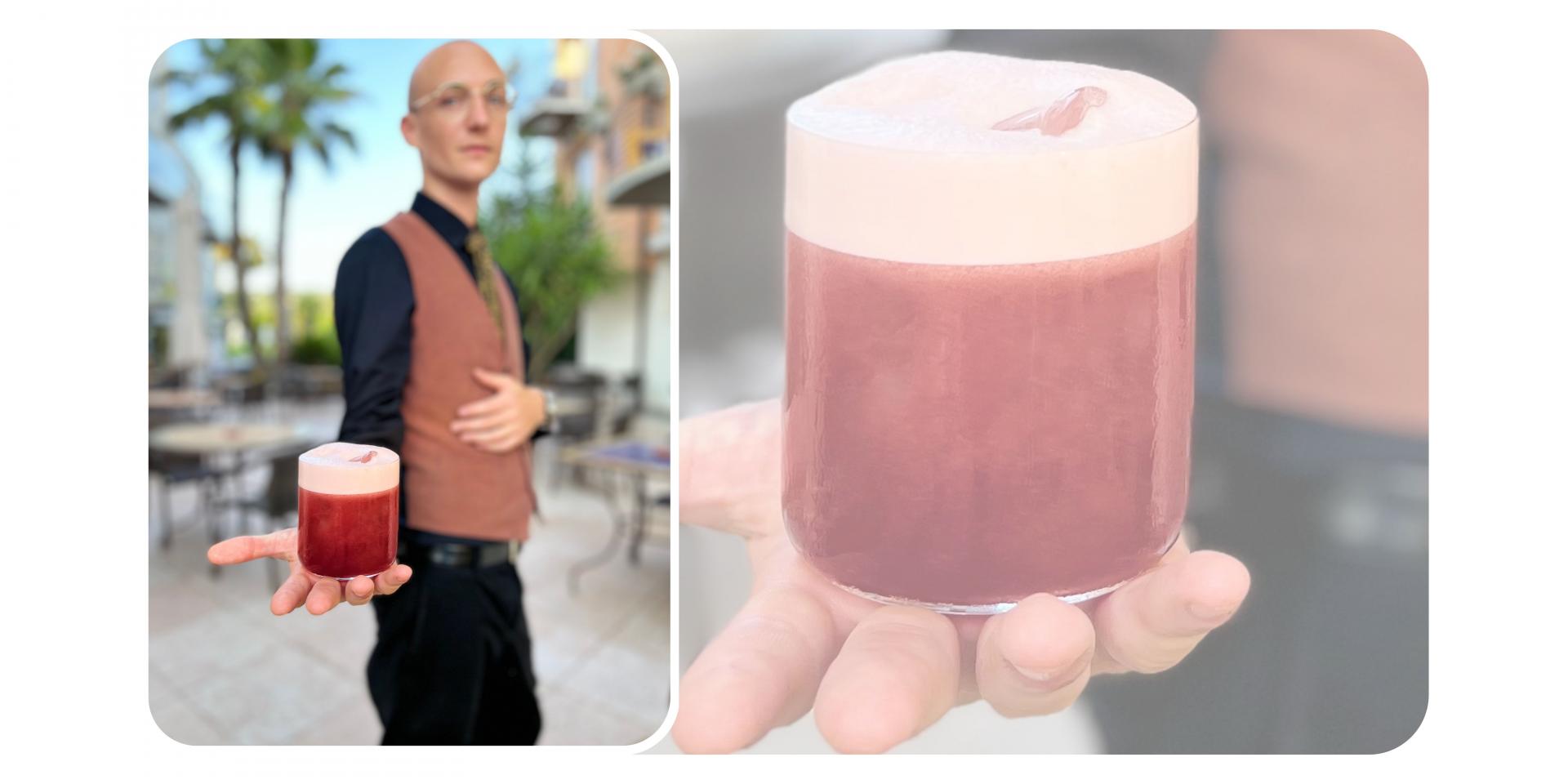 Its origins: the Bardolino Sour was born from the desire to create a special drink that celebrates the very best local product: Bardolino wine. It was inspired by the New York Sour (whisky sour with red wine), with an extra twist.
Ingredients: as the name suggests, the 'sour' element is made with Bardolino wine vinegar (homemade by Alessandro and Davide) in place of classic lemon juice. The sweet part comes from a homemade Bardolino sugar syrup to which a small amount of fresh raspberry puree is added to lend a fruity note to the drink. Some rye whisky with a menthol hint is added to give a final touch to the range of aromas. This is an extremely refined, elegant drink, with aromas that range from ripe red berries to spices. It has an astringent, fresh, fruity taste that is both rich and sophisticated.
Our barmen's tip: best enjoyed as an aperitif, but also after dinner and throughout a night out.
Who will enjoy it: it's a drink for wine lovers who appreciate elegance in all elements of their life.
---
Spicy Bramble Margarita
Its origins: from the blending and reinterpretation of 2 cocktails, the Bramble and the Margarita. The cocktail comes in 2 forms: a liquid part (the Margarita element) and a light, foamy section, inspired by Bramble, that tops the cocktail and enhances its flavour.
Ingredients: the Margarita is made with tequila infused with jalapeno pepper, basil, mint, ginger syrup and fresh lime juice prepared by the guys at Deja Blu. The flavour is tangy and fresh.
Bramble is made up of a hint of Chambord combined with sugar syrup and water. The base is made in this way to give the drink a sweet and ethereal foam.
Our barmen's tip: a refreshing summer drink with an element of surprise.
Who will enjoy it: it's perfect for lively, bubbly, young people keen to experiment with daring, different and sometimes unusual flavours.
Fun fact: the foam was created by the famous Spanish cook Ferran Adrià, who wanted to create a disappearing foam to add flavour to certain foods. The concept crossed over into the world of bartending and the creation of cocktails and drinks.
---
Plus Ultra
Its origins: it was born from an idea that came from Davide and Alessandro, and got its name as a result of an unsuccessful attempt to make the cocktail and their commitment to continue trying until they obtained the perfect result.
Ingredients: the starting point is a Vermouth aged in oak barrels for over a year, plus a touch of mezcal for a smoky note, Timut pepper syrup and homemade vanilla.
Timut pepper is a very individual pepper: it has citrus scents, and when combined with the softness of vanilla, gives the drink a rich quality without making it too sickly sweet. Finally, there's a tiny touch of Campari to add an element of bitterness, and the icing on the cake is a hint of grassy, spicy rosemary, which contrasts with the sweetness of the Vermouth.
Our barmen's tip: this is an extremely refined and complex aperitif, containing smoky, spicy, citrus notes of barrel-aged Vermouth.
Who will enjoy it: experienced drinkers. But also great for open-minded people looking for something a little different.
---
An immersive experience
One of the most popular aspects of signature cocktails is the immersive experience they offer clients. Every sip is a discovery, a journey through surprising tastes and aromas that overwhelm all the senses. Alessandro and Davide play a starring role in the process, presenting the drinks with passion and telling the stories behind their creations.
If you've never tried one of our signature cocktails, we recommend you do so soon. Cheers, and… See you at the next tasting!