Federica
Guest Experience Manager
"I am a lending hand. I make sure that customers get all the attention they need and fully enjoy their holiday."
RomantiColor: organise your surprise with us
Publication date: Monday 16 January 2023
Reading time: 3 minutes
Our day's work never ends. Our chef keeps on cooking, our maître d' is constantly checking that everything's perfect, and there's always a welcome from our front office manager.
The other constant at Color is our commitment to listen to our clients so that we can anticipate their wishes. Even when they are just wishes, and whether they're traditional or more unconventional.
Over the years, we have designed and created a number of experiences and surprises for our guests. Here are three of the most romantic that we have organised.
An evening on the terrace


Johann and Gerda are long-standing guests of the ColorHotel. They stayed with us last summer and were celebrating their 30th wedding anniversary during their stay.
When Johann asked us to help him organise something special, our response was a 'crescendo of emotions'! The day started with a rose for Gerda at breakfast. Then the bedroom was decorated for the occasion, ready for a magical evening.
Johann thought up an excuse to take Gerda to the fourth floor and to our La Vista del Color Hotel terrace. There they were met with the perfect setting and exclusive use of the terrace. We had created a romantic corner with a view of the lake where they could enjoy an aperitif and dinner as they gazed upon a magical sunset over Lake Garda. A beautiful end to a special day.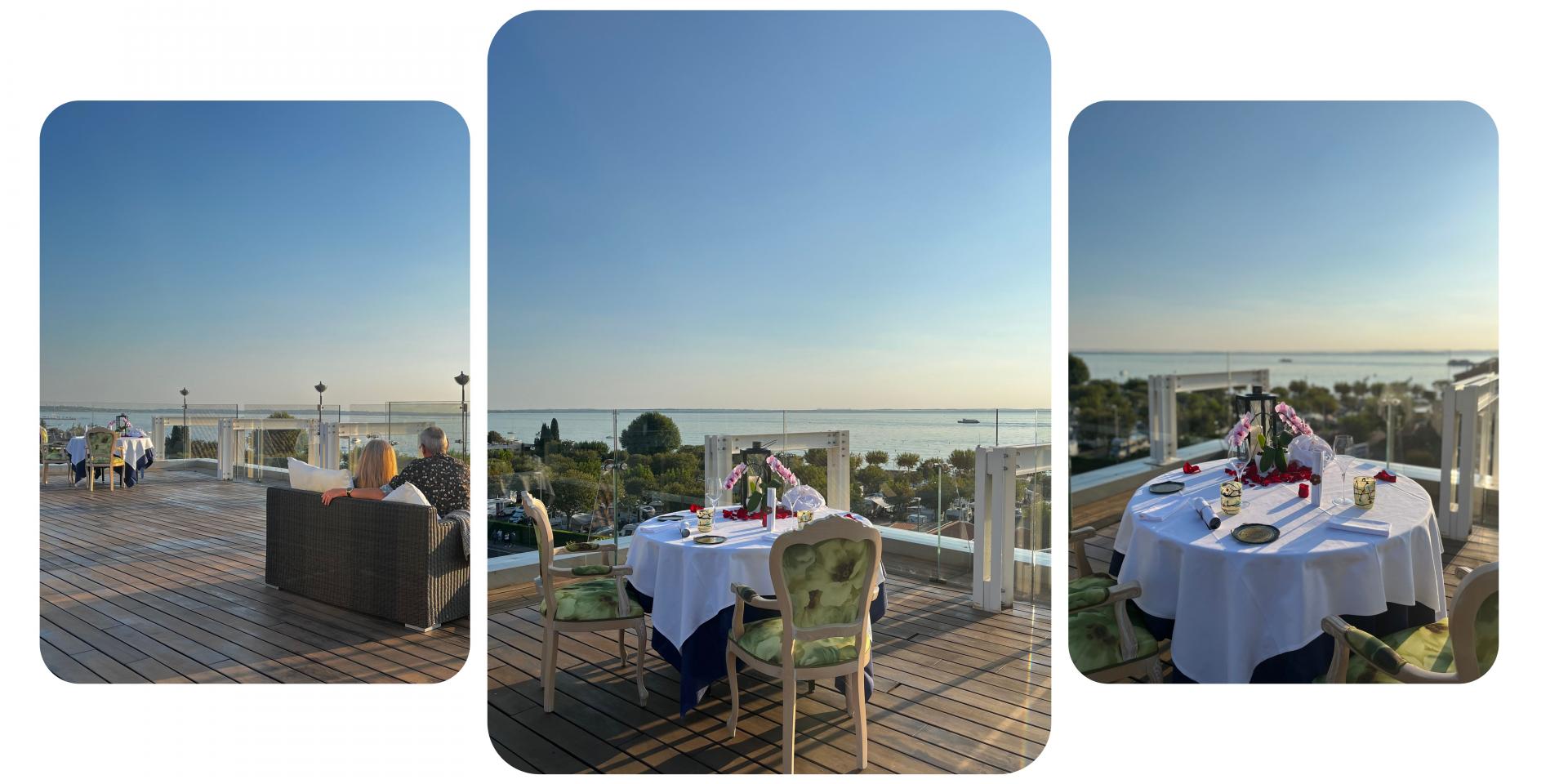 Getting married in Bardolino
Peter makes a last-minute decision to book a holiday at the ColorHotel: his plan is to marry his beloved Juliane during his stay. He has no idea what documentation he needs for a civil wedding in Italy, and he needs someone to step in to help organise the wedding.
In fact, they had stayed with us a few months earlier: they were so taken with the ambience of the lake that they decided to get married and celebrate the wedding here. Naturally, we took great care in choosing the best room for them for their honeymoon.
The ceremony took place in Bardolino's town hall, in a room with splendid views of the harbour, and a day of sunshine ensured the day was both joyous and filled with light. And given that after all these preparations we're now almost family, they chose our Federica to be their witness, accompanying them in a splendid moment of love.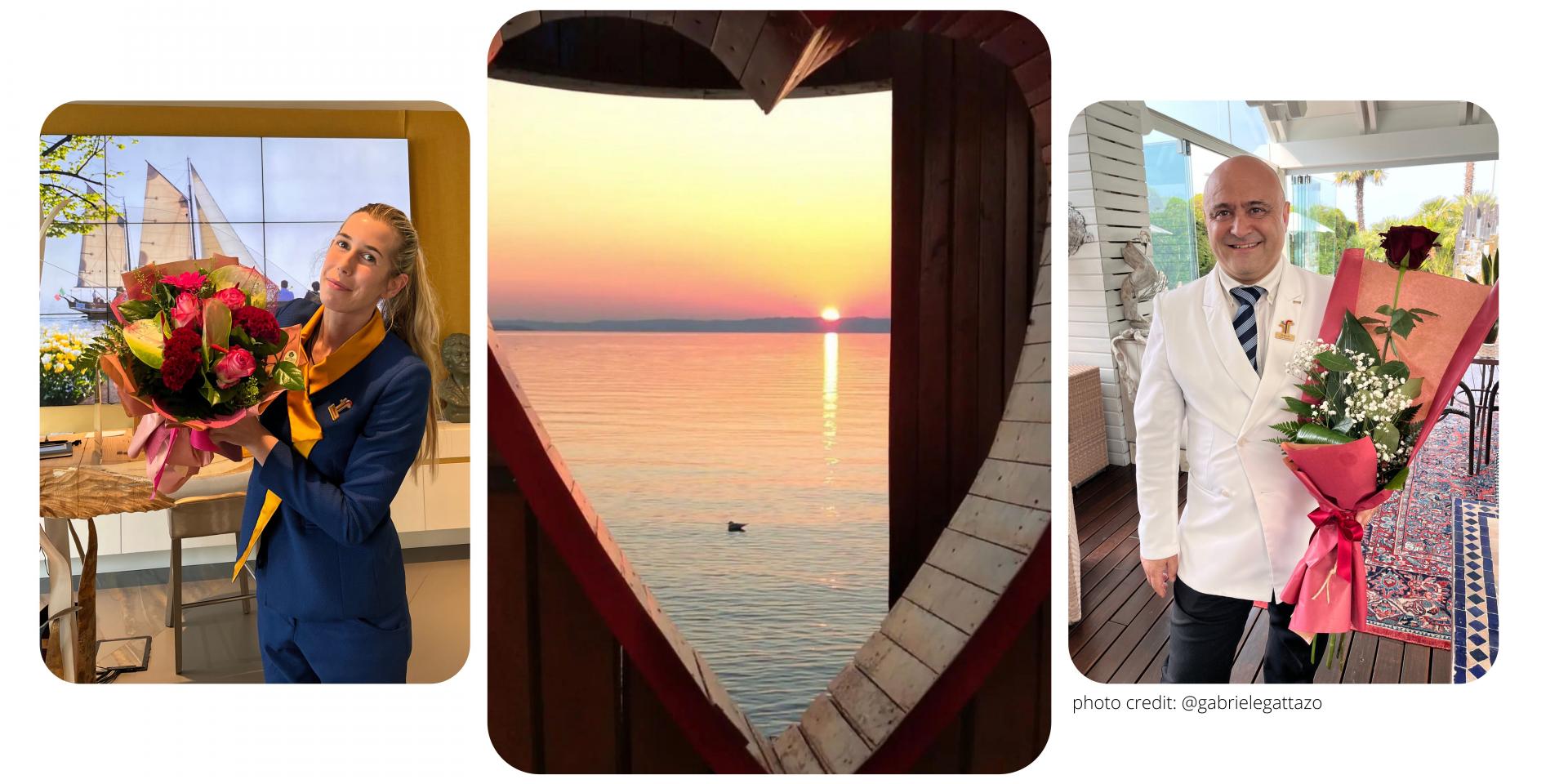 A special question
On the face of it, it was a beautiful evening – just like any other. Alice was having dinner with her beloved Nicola at La Veranda del Color and didn't realise that Maître Franco had a special dish for her.
Alongside the Tulakalum Chocolate, Coffee and Yuzu dessert was a little box containing an engagement ring.
And this is how Nicola asked Alice to marry him!
An emotional 'yes' unleashed a magical moment in the whole room, with the whole La Veranda del Color team applauding them. It really was an unforgettable evening!
These three stories relay just some of the experiences we've prepared for our guests. If you're tempted to surprise your partner, a relation or friend, and celebrate a special moment with us, you can depend on us to be your perfect accomplices, faithful and silent ;)
To start organising your special moment, write to Federica: let's set the world alight together!